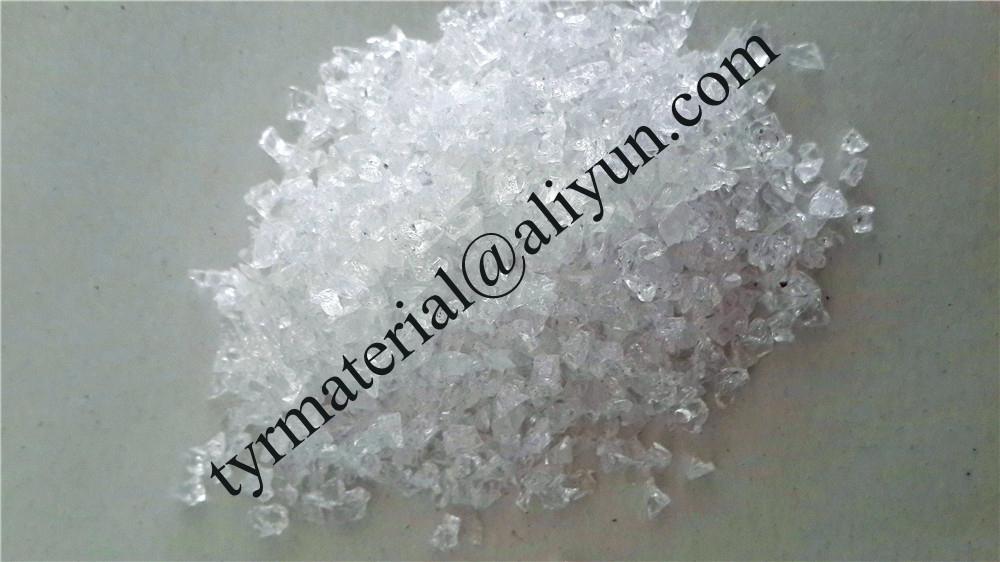 Magnesium fluoride, MgF2 crystal granules optics coating material CAS 7783-40-6
Model No.︰
-
Brand Name︰
TYR
Country of Origin︰
China
Unit Price︰
US $ 200 / kg
Minimum Order︰
1 kg
Product Description
Magnesium Fluoride, MgF2 crystal evaporation material,
Purity:99.95%
Shape: shots,pellets,pieces,granules,rods,tablets
Spec.:
Tablets: 8mm dia. X 5mm L, 10mm dia. X 5mm L, 20mm dia. X 8mm L e.t.c
Pieces, Granules: 1-2.5mm, 3-6mm, 3-8mm, 1-3mm, 3-12mm e.t.c
Magnesium fluoride, MgF2 is a white crystalline salt and is transparent over a wide range of wavelengths,
with commercial uses in optics that are also used in space telescopes,
Molar mass 62.3018 g/mol , Appearance white tetragonal crystals ,
Density 3.148 g/cm3 , Melting point 1263 °C , Boiling point 2260 °C
Uses:
Optics: Magnesium fluoride is transparent over an extremely wide range of wavelengths.
Windows, lenses, and prisms made of this material can be used over the entire range of wavelengths
from 0.120 μm (vacuum ultraviolet) to 8.0 μm (infrared). However, with lithium fluoride it is one of
the two materials that will transmit in the vacuum ultraviolet range at 121 nm (Lyman alpha)
and this is where it finds its application.
Lower grade MgF2 is sometimes used in the infrared but here it is inferior to calcium fluoride. MgF2 is
tough and works and polishes well, but it is slightly birefringent and should be cut with the optic
axis perpendicular to the plane of the window or lens.
Due to its having a suitable refractive index of 1.37, thin layers of MgF2 are very commonly used on the
surfaces of optical elements as inexpensive anti-reflective coatings.
The Verdet constant of (MgF2) at 632.8 nm is 0.00810 arcmin G−1 cm−1.

Physical Properties
| | |
| --- | --- |
| Crystal Structure | Tetragonal |
| crystal orientation | <110>, <100> |
| Solubility at 18°C | 0.0076g (per 100g water) |
| Lattice Constant | a=4.621; c=3.053 |
| Dielectric Constant | 105 ~107 Hz 5.45 |
| Density | 3.18g/cm3 |
| Mohs Hardness | 6 |
| Melting Point | 1255°C |
| Boiling Point | 2239°C |
| MoleMolecular Weight | 62.32 |
| Special Heat | 920 J/(kg K) |
| Hardness (Knoop) | 415,576 kg/mm2 |
| Transparency Range | 0.12 ~ 8.5μm |
| Thermal Conductivity | 3.14W/m·K |
| Elastic Coefficient | C11=140, C12=89, C44=57, C13=63, C66=96 |
| Fluorescence | weak yellow upon excitation at 590 nm |
| Applications | IR, UV , DUV and VUV |

Index of Refraction
| | | | | | |
| --- | --- | --- | --- | --- | --- |
| Wavelength (nm) | no | ne | Wavelength (nm) | no | ne |
| 178 | 1.43975 | 1.45365 | 656 | 1.37661 | 1.38835 |
| 436 | 1.38203 | 1.39402 | 1000 | 1.37964 | 1.38521 |
| 488 | 1.38016 | 1.39206 | 2000 | 1.36800 | 1.37922 |
| 546 | 1.37855 | 1.39039 | 3000 | 1.36000 | 1.37060 |
| 588 | 1.37770 | 1.38960 | 5000 | 1.33020 | 1.33930 |
We also supply below material:
| | | | |
| --- | --- | --- | --- |
| Material Name | Formula | Purity | Form |
| Aluminum Fluoride | AlF3 | 99.9% | Ceramic, Crystal |
| Yttrium Fluoride | YbF3 | 99.99% | Ceramic |
| Lanthanum Fluoride | LaF3 | 99.99% | Ceramic |
| Yttrium Fluoride | YF3 | 99.9% | Ceramic |
| Cerium Fluoride | CeF3 | 99.99% | Ceramic |
| Magnesium Fluoride | MgF2 | 99.99% | Crystal |
| Praseodymium Fluoride | PrF3 | 99.9% | Ceramic |
| Barium Fluoride | BaF2 | 99.99% | Ceramic, Crystal |
| Lithium Fluoride | LiF | 99.99% | Crystal |
| Sodium Fluoride | NaF | 99.9% | Ceramic, Crystal |
| Strontium Fluoride | SrF2 | 99.9% | Ceramic |
| Lead Fluoride | PbF2 | 99.99% | Ceramic, Crystal |
| Erbium Fluoride | ErF3 | 99.9% | Cerami |
specification︰ Shape: shots,pellets,pieces,granules,rods,tablets
Spec.:
Tablets: 8mm dia. X 5mm L, 10mm dia. X 5mm L, 20mm dia. X 8mm L e.t.c
Pieces, Granules: 1-2.5mm, 3-6mm, 3-8mm, 1-3mm, 3-12mm e.t.c
Related Products