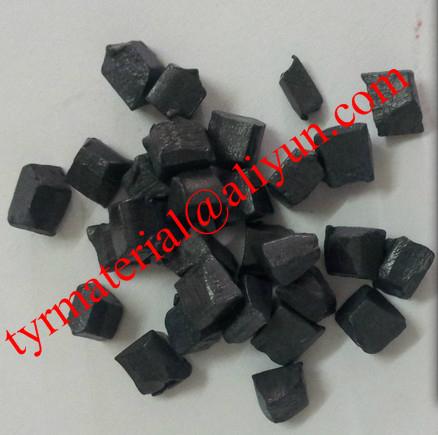 Barium (Ba) metal granules use in evaporation material CAS 7440-39-3
Model No.︰
Ba
Brand Name︰
TYR
Country of Origin︰
China
Unit Price︰
US $ 200 / kg
Minimum Order︰
1 kg
Product Description
Barium (Ba) Evaporating coating material:
Purity: Ba+Sr: 99.5%, 99.9%, 99.95%
Size: 1-6mm, 3-6mm, <8mm, <15mm or made per requested,
Shape: pieces, chunks, granules e.t.c
Packing: cover oil, 1 kg/drum (bottle)
Barium is a soft, silvery-white metal, with a slight golden shade when ultrapure. Density:3.5g/cm3 at 20°C, Melting point: 725 °C, Boiling point: 1640 °C. The silvery-white color of barium metal rapidly vanishes upon oxidation in air yielding a dark gray oxide layer. Barium has a medium specific weight and good electrical conductivity. Ultrapure barium is very hard to prepare, and therefore many properties of barium have not been accurately measured yet.

Applications: Metal and alloys, bearing alloys; lead–tin soldering alloys – to increase the creep resistance; alloy with nickel for spark plugs; additive to steel and cast iron as an inoculant; alloys with calcium, manganese, silicon, and aluminum as high-grade steel deoxidizers.

Barium has only a few industrial applications. The metal has been historically used to scavenge air in vacuum tubes. It is a component of YBCO (high-temperature superconductors) and electro ceramics, and is added to steel and cast iron to reduce the size of carbon grains within the microstructure of the metal.

Barium, as a metal or when alloyed with aluminum, is used to remove unwanted gases (guttering) from vacuum tubes, such as TV picture tubes. Barium is suitable for this purpose because of its low vapor pressure and reactivity towards oxygen, nitrogen, carbon dioxide, and water; it can even partly remove noble gases by dissolving them in the crystal lattice. This application is gradually disappearing due to the rising popularity of the tubeless LCD and plasma sets.
we also can supply below high purity metal sputtering targets material:
| | | |
| --- | --- | --- |
| Material Name | Formula | Purity |
| Aluminum | Al | 99.99%, 99.999% |
| Antimony | Sb | 99.99%, 99.999% |
| Boron | B | 99.9%,99.99%, 99.999% |
| Barium | Ba | 99.3%, 99.9%, 99.95% |
| Bismuth | Bi | 99.99%, 99.999% |
| Beryllium | Be | 99.99% |
| Graphite | C | 99.99% |
| Cobalt | Co | 99.9%, 99.95%, 99.99% |
| Chromium | Cr | 99.5%, 99.9%, 99.95% |
| Copper | Cu | 99.99%, 99.999% |
| Cadmium | Cd | 99.99% |
| Cerium | Ce | Ce/TREM>99.5%, 99.9%, TREM: 99% |
| Dysprosium | Dy | Dy/TREM>99.5%, 99.9%, TREM: 99% |
| Eur | Eu | Eu/TREM>99.95, 99.99%, TREM: 99% |
| Erbium | Er | Er/TREM>99.9%, TREM: 99% |
| Germanium | Ge | 99.999%, polycrystal or monocrystal |
| Gallium | Ga | 99.99% |
| Gadolinium | Gd | Gd/TREM>99.9%, 99.99% TREM: 99% |
| Holmium | Ho | Ho/TREM>99.9%, 99.99% TREM: 99% |
| Hafnium | Hf | 99.5%, 99.9% |
| Iron | Fe | 99.9%, 99.99% |
| Iridium | Ir | 99.95% |
| Indium | In | 99.9%, 99.99%,99.999% |
| Lanthanum | La | La/TREM>99.5%, 99.9%, TREM: 99% |
| Lutetium | Lu | Lu/TREM>99.99% TREM: 99% |
| Lithium | Li | 99.5% |
| Molybdenum | Mo | 99.95% |
| Magnesium | Mg | 99.95% |
| Nickel | Ni | 99.9%, 99.98%, 99.995%, 99.999% |
| Niobium | Nb | 99.95% |
| Neodymium | Nd | Nd/TREM>99.5%, 99.9%, TREM: 99% |
| Lead | Pb | 99.99% |
| Praseodymium | Pr | Pr/TREM>99.5%, TREM: 99% |
| Ruthenium | Ru | 99.95% |
| Rhenium | Re | 99.95%, 99.99% |
| Samarium | Sm | Sm/TREM>99.9%, TREM: 99% |
| Silicon | Si | 99.999%, 99.9999%,poly or mono crystal, doped or undoped |
| Selenium | Se | 99.99%, 99.999% |
| Scandium | Sc | Sc/TREM>99.9%, 99.99% TREM: 99% |
| Silver | Ag | 99.99% |
| Terbium | Tb | Tb/TREM>99.9%, 99.99% TREM: 99% |
| Tellurium | Te | 99.99%,99.999% |
| Tantalum | Ta | 99.95%, 99.99% |
| Titanium | Ti | 99.7%, 99.99%, 99.995%, 99.999% |
| Thulium | Tm | Tm/TREM>99.9%, 99.99% TREM: 99% |
| Tin | Sn | 99.99%, 99.999% |
| Tungsten | W | 99.95% |
| Vanadium | V | 99.9% |
| Ytterbium | Yb | Yb/TREM>99.9%, 99.99% TREM: 99% |
specification︰ Purity: Ba+Sr: 99.5%, 99.9%, 99.95%
 
Size: 1-6mm, 3-6mm, <8mm, <15mm or made per requested,
Label︰ Barium (Ba) metal evaporation material
Related Products