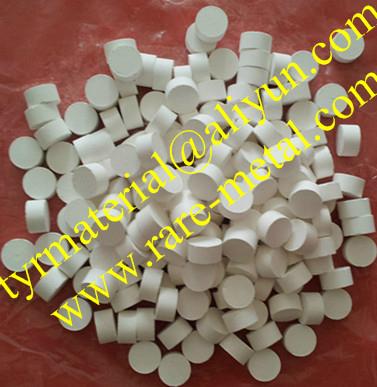 Ytterbium oxide Yb2O3 granules use in thin film coating CAS 1314-37-0
Model No.︰
Yb2O3
Brand Name︰
TYR
Country of Origin︰
China
Unit Price︰
US $ 250 / kg
Minimum Order︰
1 kg
Product Description
Ytterbium oxide, Yb2O3
Purity: Yb2O3/TREO:99.99%, 99.999%, TREO>99%
Shape: granules, pieces, chunks, pellets
Pieces: 1-4mm, 1-6mm, 3-6mm, 3-12mm e.t.c,
Tablets: 8-9mm dia. X 4-5mm thick, 10mm dia. X 10mm thick e.t.c
Ytterbium(III) oxide, Yb2O3 is one of the more commonly encountered compounds of ytterbium.
It has the "rare-earth C-type sesquioxide" structure which is related to the fluorite structure with
one quarter of the anions removed, leading to ytterbium atoms in two different six coordinate (non-octahedral) environments.
Molar mass 394.08 g/mol, Appearance White solid. Density 9.17 g/cm3, solid.
Melting point 2355 °C , Boiling point 4070 °C , Solubility in water Insoluble
We also supply below oxie ceramic sputtering targets material:
| | | | |
| --- | --- | --- | --- |
| Material Name | Formula | Purity | Form |
| Aluminum Oxide | Al2O3 | 99.99% | Ceramic, Crystal |
| Gadolinium Oxide | Gd2O3 | Gd2O3/TREO>99.99%, TREO>99% | Ceramic |
| Hafnium Oxide | HfO2 | 99.99% | Ceramic |
| Silicon Oxide | SiO | 99.9% | Ceramic, Crystal |
| Silicon Dioxide | SiO2 | 99.995% | Ceramic, Crystal |
| Titanium Dioxide | TiO2 | 99.99% | Ceramic |
| Titanium Oxide | Ti2O3 | 99.99% | Ceramic, Crystal |
| Yttrium Oxide | Yb2O3 | Yb2O3/TREO>99.99%, 99.999%; TREO>99% | Ceramic |
| Lanthanum Titanium Oxide | LaTiO3 | 99.99% | Ceramic |
| Zinc Oxide | ZnO | 99.99% | Ceramic |
| Zirconium Oxide | ZrO2 | 99.95% | Ceramic |
| Yttrium Oxide | Y2O3 | Y2O3/TREO>99.99%, 99.999%; TREO>99% | Ceramic |
| Titanium Oxide | Ti4O7 | 99.99% | Ceramic |
| Tin Oxide | SnO | 99.9% | Ceramic |
| Iron Oxide | Fe2O3 | 99.9% | Ceramic |
| Strontium Titanate | SrTiO3 | 99.9% | Ceramic |
| Cerium Oxide | CeO2 | CeO2/TREO>99.99%, 99.999%; TREO>99% | Ceramic |
| Indium Tin Oxide | ITO | 99.99% | Ceramic |
| Magnesium Oxide | MgO | 99.9% | Ceramic, Crystal |
| Scandium Oxide | Sc2O3 | Sc2O3/TREO>99.9%, 99.99%; TREO>99% | Ceramic |
| Titanium Oxide | TiO | 99.99% | Ceramic |
| Trititanium pentoxide | Ti3O5 | 99.99% | Ceramic, Crystal |
| Tantalum Pentoxide | Ta2O5 | 99.99% | Ceramic |
| Zirconium Titanium Oxide | ZrO2-TiO2 | 99.9% | Ceramic |
| Praseodymium Titanate | PrTiO3 | 99.9% | Ceramic |
| Zirconium Magnesium Oxide | ZrO2-MgO | 99.99% | Ceramic |
| Zirconium Tantalum Oxide | ZrO2-Ta2O5 | 99.99% | Ceramic |
| Niobium Pentoxide | Nb2O5 | 99.99% | Ceramic |
| Zirconium Oxide | ZrO | 99.9% | Ceramic |
| Tin Oxide | SnO2 | 99.9% | Ceramic |
| Barium Titanate | BaTiO3 | 99.9% | Ceramic |
specification︰ ytterbium oxide sputtering target, thin film coating material,evaporation material
Label︰ Ytterbium oxide Yb2O3 granules
Related Products