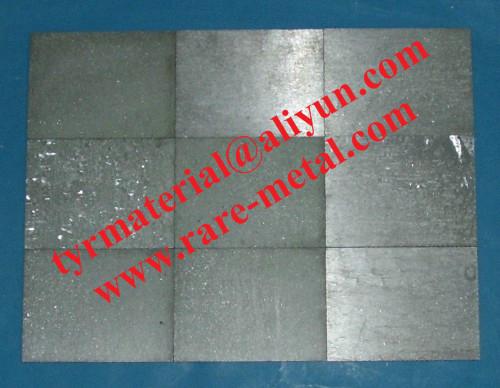 Tellurium (Te) targets use in solar cell thin film coating CAS 13494-80-9
Model No.︰
Te targets
Brand Name︰
TYR
Country of Origin︰
China
Unit Price︰
US $ 200 / pc
Minimum Order︰
1 pc
Product Description
Tellurium (Te) Compound semiconductor thin film solar cell sputtering target:
CAS# 13494-80-9
purity: 99.99%, 99.999%,
Size: max. 355.6mm (14 inch) ,
Length: 250mm x Width 200mm x thickness 20mm max.,
Shape: Discs, disks, rod, step disk, delta, plate, sheets or made per drawing

Melting Point: 449.5 °C (722.65 K, 841.1 °F), Boiling Point: 989.8 °C (1262.95 K, 1813.64 °F), Classification: Metalloid, Crystal Structure: Hexagonal, Density: 6.24 g/cm3 Crystalline.

tellurium has a si ery-white appearance, and exhibits a metallic lustre when pure (see above). It is brittle and easily pu erised. Tellurium is a p-type semiconductor, and shows varying conductivity with crystal alignment. Its conductivity increases slightly with exposure to light. It can be doped with si er, copper, gold, tin, or other elements.

Applications: Metallurgy, Semiconductor and electronics industry uses, color ceramics.

Metallurgy: The largest consumer of tellurium is metallurgy, where it is used in iron, copper and lead alloys.

Semiconductor and electronics industry uses: Tellurium is used in cadmium telluride (CdTe) solar panels. National Renewable Energy Laboratory lab tests using this material achieved some of the highest efficiencies for solar cell electric power generation. Massive commercial production of CdTe solar panels by First Solar in recent years has significantly increased tellurium demand. If some of the cadmium in CdTe is replaced by zinc then (Cd,Zn)Te is formed which is used in solid-state X-ray detectors.

Used to color ceramics: The strong increase in optical refraction upon the addition of selenides and telluride into glass is used in the production of glass fibers for telecommunications. These chalcogenide glasses are widely used. Mixtures of selenium and tellurium are used with barium peroxide as oxidizer in the delay powder of electric blasting caps. Organic tellurides have been employed as initiators for living radical polymerization and electron-rich mono- and di-telluride possess antioxidant activity. Rubber can be vulcanized with tellurium instead of sulfur or selenium. The rubber produced in this way shows improved heat resistance. Tellurite agar is used to identify member of the corynebacterium genus, most typically Corynebacterium diphtheriae, the pathogen responsible for diphtheria.
we also can supply below high purity metal sputtering targets material:
| | | |
| --- | --- | --- |
| Material Name | Formula | Purity |
| Aluminum | Al | 99.99%, 99.999% |
| Antimony | Sb | 99.99%, 99.999% |
| Boron | B | 99.9%,99.99%, 99.999% |
| Barium | Ba | 99.3%, 99.9%, 99.95% |
| Bismuth | Bi | 99.99%, 99.999% |
| Beryllium | Be | 99.99% |
| Graphite | C | 99.99% |
| Cobalt | Co | 99.9%, 99.95%, 99.99% |
| Chromium | Cr | 99.5%, 99.9%, 99.95% |
| Copper | Cu | 99.99%, 99.999% |
| Cadmium | Cd | 99.99% |
| Cerium | Ce | Ce/TREM>99.5%, 99.9%, TREM: 99% |
| Dysprosium | Dy | Dy/TREM>99.5%, 99.9%, TREM: 99% |
| Eur | Eu | Eu/TREM>99.95, 99.99%, TREM: 99% |
| Erbium | Er | Er/TREM>99.9%, TREM: 99% |
| Germanium | Ge | 99.999%, polycrystal or monocrystal |
| Gallium | Ga | 99.99% |
| Gadolinium | Gd | Gd/TREM>99.9%, 99.99% TREM: 99% |
| Holmium | Ho | Ho/TREM>99.9%, 99.99% TREM: 99% |
| Hafnium | Hf | 99.5%, 99.9% |
| Iron | Fe | 99.9%, 99.99% |
| Iridium | Ir | 99.95% |
| Indium | In | 99.9%, 99.99%,99.999% |
| Lanthanum | La | La/TREM>99.5%, 99.9%, TREM: 99% |
| Lutetium | Lu | Lu/TREM>99.99% TREM: 99% |
| Lithium | Li | 99.5% |
| Molybdenum | Mo | 99.95% |
| Magnesium | Mg | 99.95% |
| Nickel | Ni | 99.9%, 99.98%, 99.995%, 99.999% |
| Niobium | Nb | 99.95% |
| Neodymium | Nd | Nd/TREM>99.5%, 99.9%, TREM: 99% |
| Lead | Pb | 99.99% |
| Praseodymium | Pr | Pr/TREM>99.5%, TREM: 99% |
| Ruthenium | Ru | 99.95% |
| Rhenium | Re | 99.95%, 99.99% |
| Samarium | Sm | Sm/TREM>99.9%, TREM: 99% |
| Silicon | Si | 99.999%, 99.9999%,poly or mono crystal, doped or undoped |
| Selenium | Se | 99.99%, 99.999% |
| Scandium | Sc | Sc/TREM>99.9%, 99.99% TREM: 99% |
| Si er | Ag | 99.99% |
| Terbium | Tb | Tb/TREM>99.9%, 99.99% TREM: 99% |
| Tellurium | Te | 99.99%,99.999% |
| Tantalum | Ta | 99.95%, 99.99% |
| Titanium | Ti | 99.7%, 99.99%, 99.995%, 99.999% |
| Thulium | Tm | Tm/TREM>99.9%, 99.99% TREM: 99% |
| Tin | Sn | 99.99%, 99.999% |
| Tungsten | W | 99.95% |
| Vanadium | V | 99.9% |
| Ytterbium | Yb | Yb/TREM>99.9%, 99.99% TREM: 99% |
specification︰ Diameter: 355.6mm (14") max.
Single piece Size: Length: <1500mm, Width: <250mm, Thickness: >1mm, if larger size than this, we can do it as tiles joint by 45 degree or 90 degree.
Shape: discs, plate, rod, tube, sheet, Delta, Rotatable and per drawing
Label︰ sputtering targets
Related Products