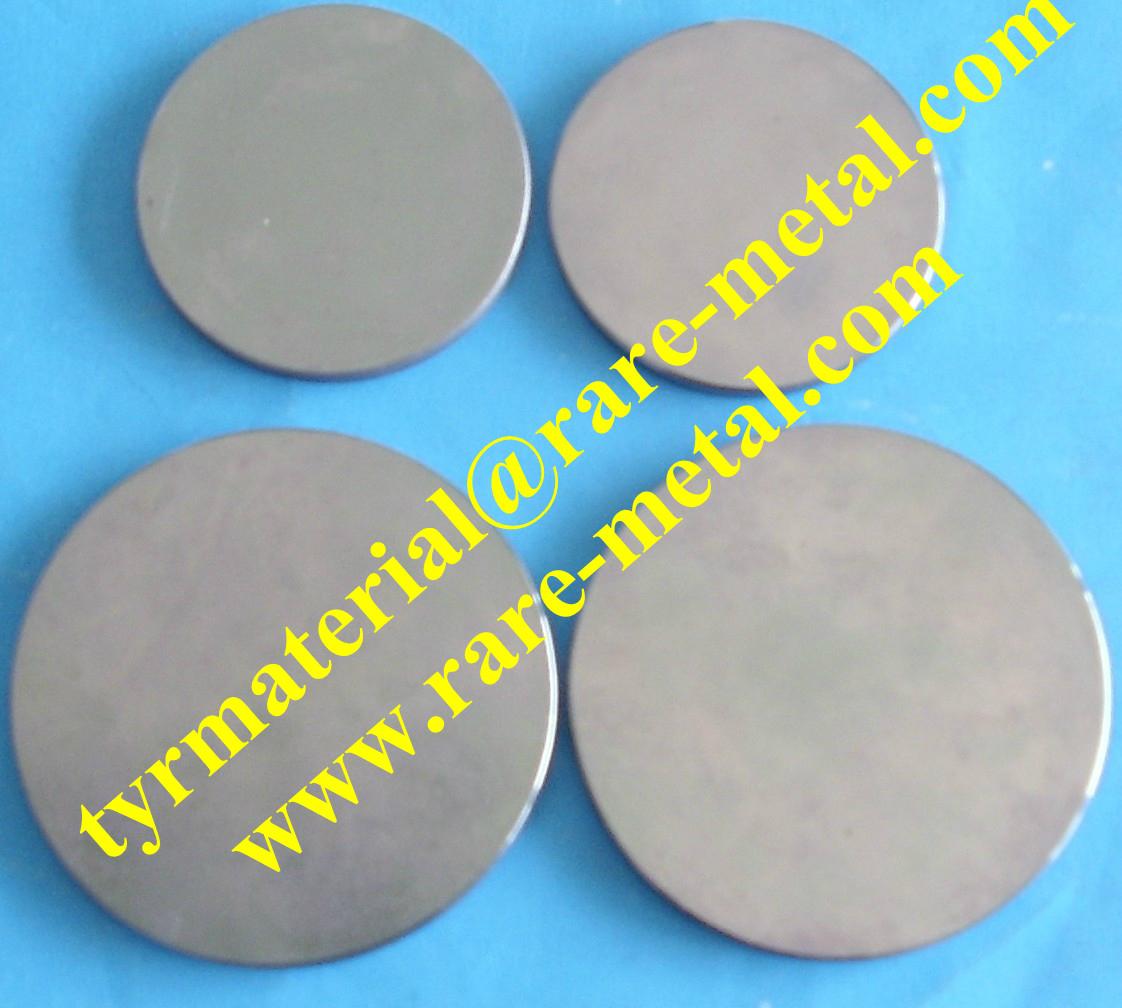 Selenium (Se) sputtering targets, purity: 99.99%, CAS: 7782-49-82
Model No.︰
Se targets
Brand Name︰
TYR
Country of Origin︰
China
Unit Price︰
US $ 200 / pc
Minimum Order︰
1 pc
Product Description
Selenium (Se) sputtering targets
Purity: 99.99%, 99.999%
Spec.:
Diameter: 355.6mm (14") max.
Single piece Size: Length: <1500mm, Width: <250mm, Thickness: >1mm, if larger size than this, we can do it as tiles joint by 45 degree or 90 degree.
Shape: discs, plate, rod, tube, sheet, Delta, Rotatable and per drawing
Made sputtering targets method:
hot pressing (HP), hot/cold isostatic pressing (HIP, CIP), and vacuum melting, vacuum sintering
Selenium (Se), Selenium exists in several allotropes that interconvert upon heating and cooling carried out
at different temperatures and rates. As prepared in chemical reactions, selenium is usually amorphous,
brickred powder. When rapidly melted, it forms the black, vitreous form, which is usually sold industrially
as beads。
Melting point: 494 K, 221 °C, 430 °F , Boiling point: 958 K, 685 °C, 1265 °F
Selenides: Analogous to the behavior of other chalcogens, selenium forms a dihydride H2Se. It is a
strongly odiferous, toxic, and colorless gas. It is more acidic than H2S. In solution it ionizes to HSe-.
The selenide dianion Se2-forms a variety of compounds, including the minerals from which selenium is
obtained commercially. Illustrative selenides include mercury selenide (HgSe), lead selenide (PbSe),
zinc selenide (ZnSe), and copper indium gallium diselenide (Cu(Ga,In)Se2).
These materials are semiconductors. With highly electropositive metals, such as aluminium, these selenides
are prone to hydrolysis
Applications:
Manganese electrolysis, Glass production, Alloys, Solar cells
Selenium is a semiconductor and is used in photocells. Uses in electronics, once important, have been
mostly supplanted by silicon semiconductor devices. Selenium continues to be used in a few types
of DC power surge protectors, baby formula, and one type of fluorescent quantum dot
we also can supply below high purity metal sputtering targets material:
| | | |
| --- | --- | --- |
| Material Name | Formula | Purity |
| Aluminum | Al | 99.99%, 99.999% |
| Antimony | Sb | 99.99%, 99.999% |
| Boron | B | 99.9%,99.99%, 99.999% |
| Barium | Ba | 99.3%, 99.9%, 99.95% |
| Bismuth | Bi | 99.99%, 99.999% |
| Beryllium | Be | 99.99% |
| Graphite | C | 99.99% |
| Cobalt | Co | 99.9%, 99.95%, 99.99% |
| Chromium | Cr | 99.5%, 99.9%, 99.95% |
| Copper | Cu | 99.99%, 99.999% |
| Cadmium | Cd | 99.99% |
| Cerium | Ce | Ce/TREM>99.5%, 99.9%, TREM: 99% |
| Dysprosium | Dy | Dy/TREM>99.5%, 99.9%, TREM: 99% |
| Eur | Eu | Eu/TREM>99.95, 99.99%, TREM: 99% |
| Erbium | Er | Er/TREM>99.9%, TREM: 99% |
| Germanium | Ge | 99.999%, polycrystal or monocrystal |
| Gallium | Ga | 99.99% |
| Gadolinium | Gd | Gd/TREM>99.9%, 99.99% TREM: 99% |
| Holmium | Ho | Ho/TREM>99.9%, 99.99% TREM: 99% |
| Hafnium | Hf | 99.5%, 99.9% |
| Iron | Fe | 99.9%, 99.99% |
| Iridium | Ir | 99.95% |
| Indium | In | 99.9%, 99.99%,99.999% |
| Lanthanum | La | La/TREM>99.5%, 99.9%, TREM: 99% |
| Lutetium | Lu | Lu/TREM>99.99% TREM: 99% |
| Lithium | Li | 99.5% |
| Molybdenum | Mo | 99.95% |
| Magnesium | Mg | 99.95% |
| Nickel | Ni | 99.9%, 99.98%, 99.995%, 99.999% |
| Niobium | Nb | 99.95% |
| Neodymium | Nd | Nd/TREM>99.5%, 99.9%, TREM: 99% |
| Lead | Pb | 99.99% |
| Praseodymium | Pr | Pr/TREM>99.5%, TREM: 99% |
| Ruthenium | Ru | 99.95% |
| Rhenium | Re | 99.95%, 99.99% |
| Samarium | Sm | Sm/TREM>99.9%, TREM: 99% |
| Silicon | Si | 99.999%, 99.9999%,poly or mono crystal, doped or undoped |
| Selenium | Se | 99.99%, 99.999% |
| Scandium | Sc | Sc/TREM>99.9%, 99.99% TREM: 99% |
| Silver | Ag | 99.99% |
| Terbium | Tb | Tb/TREM>99.9%, 99.99% TREM: 99% |
| Tellurium | Te | 99.99%,99.999% |
| Tantalum | Ta | 99.95%, 99.99% |
| Titanium | Ti | 99.7%, 99.99%, 99.995%, 99.999% |
| Thulium | Tm | Tm/TREM>99.9%, 99.99% TREM: 99% |
| Tin | Sn | 99.99%, 99.999% |
| Tungsten | W | 99.95% |
| Vanadium | V | 99.9% |
| Ytterbium | Yb | Yb/TREM>99.9%, 99.99% TREM: 99% |
specification︰ Purity: 99.99%, 99.999%
Spec.:
Diameter: 355.6mm (14") max.
Single piece Size: Length: <1500mm, Width: <250mm, Thickness: >1mm, if larger size than this, we can do it as tiles joint by 45 degree or 90 degree.
Shape: discs, plate, rod, tube, sheet, Delta, Rotatable and per drawing
Label︰ Selenium Se semiconductor sputtering targets
Related Products