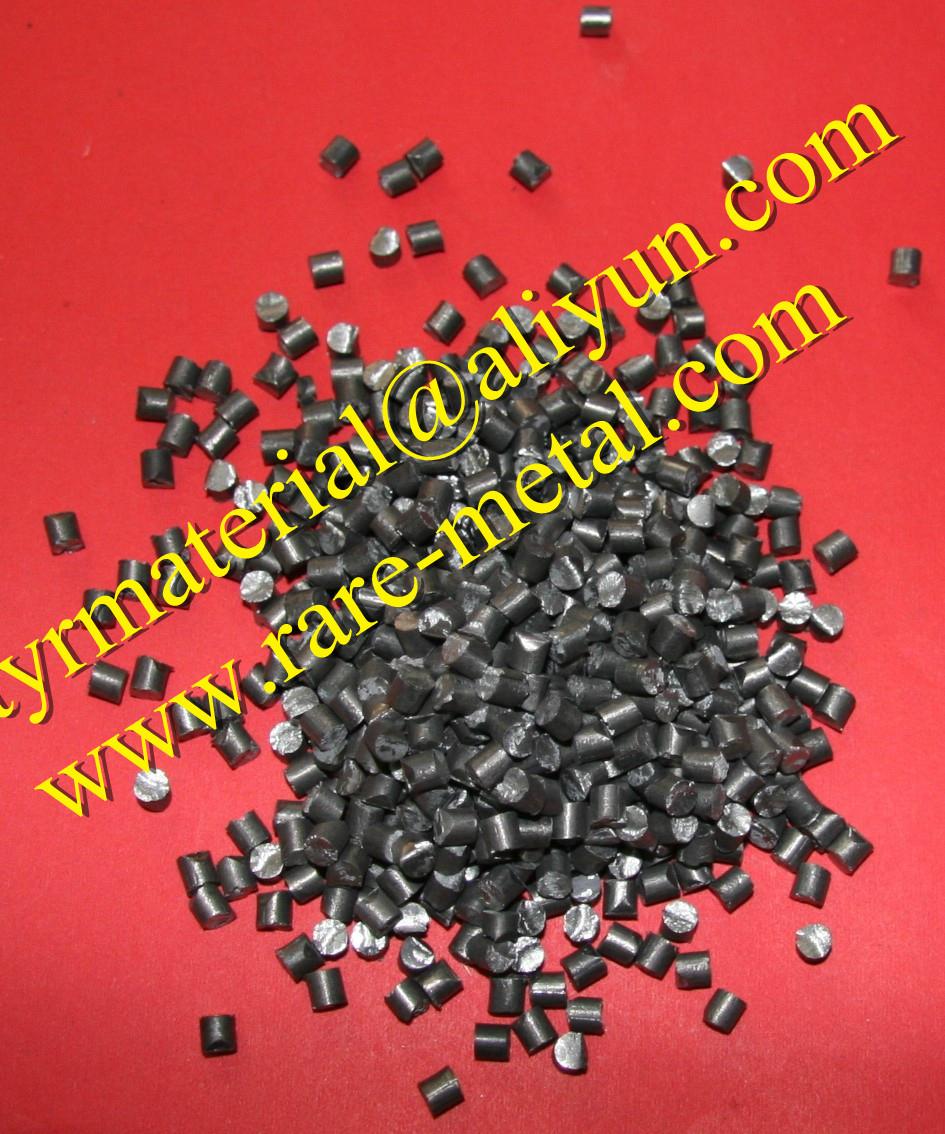 Gadolinium Gd metal pieces foils use in evaporation CAS 7440-54-2
Model No.︰
Gd
Brand Name︰
TYR
Country of Origin︰
China
Unit Price︰
US $ 200 / kg
Minimum Order︰
0.01 kg
Product Description
Gadolinium Gd metal
Purity: Gd/TREM: 99.9%, TREM: 99%min.
Shape: ingot, chunks, granules, pieces, rod, powder
​Size: <50mm chunks, 3-12mm granules, or 0.1mm foil , -200 mesh powders and made by request
Made sputtering targets method: vacuum melting
Melting point: 1585 K ​(1312 °C, ​2394 °F) Boiling point: 3273 K ​(3000 °C, ​5432 °F)
Density near r.t.: 7.90 g/cm3 Atomic weight: 157.25
Gadolinium is a silvery-white, malleable, and ductile rare earth metal. it usually has impurities of the other rare earths, Gadolinium possesses unusual metallurgical properties, to the extent that as little as 1.0 percent of gadolinium can significantly improve the workability and resistance to oxidation at high temperatures of iron, chromium, and related metals. Gadolinium as a metal or a salt absorbs neutrons, and it is, therefore, used sometimes for shielding in neutron radiography, and also in nuclear reactors.
Like most of the rare earths, gadolinium forms trivalent ions with fluorescent properties, and salts of gadolinium(III) are used as phosphors in various applications. Because of its paramagnetic properties, solutions of chelated organic gadolinium complexes are used as intravenously administered gadolinium-based MRI contrast agents in medical magnetic resonance imaging.
We also supply below material:
| | | |
| --- | --- | --- |
| Material Name | Formula | Purity |
| Aluminum | Al | 99.99%, 99.999% |
| Antimony | Sb | 99.99%, 99.999% |
| Boron | B | 99.9%,99.99%, 99.999% |
| Barium | Ba | 99.3%, 99.9%, 99.95% |
| Bismuth | Bi | 99.99%, 99.999% |
| Beryllium | Be | 99.99% |
| Graphite | C | 99.99% |
| Cobalt | Co | 99.9%, 99.95%, 99.99% |
| Chromium | Cr | 99.5%, 99.9%, 99.95% |
| Copper | Cu | 99.99%, 99.999% |
| Cadmium | Cd | 99.99% |
| Cerium | Ce | Ce/TREM>99.5%, 99.9%, TREM: 99% |
| Dysprosium | Dy | Dy/TREM>99.5%, 99.9%, TREM: 99% |
| Eur | Eu | Eu/TREM>99.95, 99.99%, TREM: 99% |
| Erbium | Er | Er/TREM>99.9%, TREM: 99% |
| Germanium | Ge | 99.999%, polycrystal or monocrystal |
| Gallium | Ga | 99.99% |
| Gadolinium | Gd | Gd/TREM>99.9%, 99.99% TREM: 99% |
| Holmium | Ho | Ho/TREM>99.9%, 99.99% TREM: 99% |
| Hafnium | Hf | 99.5%, 99.9% |
| Iron | Fe | 99.9%, 99.99% |
| Iridium | Ir | 99.95% |
| Indium | In | 99.9%, 99.99%,99.999% |
| Lanthanum | La | La/TREM>99.5%, 99.9%, TREM: 99% |
| Lutetium | Lu | Lu/TREM>99.99% TREM: 99% |
| Lithium | Li | 99.5% |
| Molybdenum | Mo | 99.95% |
| Magnesium | Mg | 99.95% |
| Nickel | Ni | 99.9%, 99.98%, 99.995%, 99.999% |
| Niobium | Nb | 99.95% |
| Neodymium | Nd | Nd/TREM>99.5%, 99.9%, TREM: 99% |
| Lead | Pb | 99.99% |
| Praseodymium | Pr | Pr/TREM>99.5%, TREM: 99% |
| Ruthenium | Ru | 99.95% |
| Rhenium | Re | 99.95%, 99.99% |
| Samarium | Sm | Sm/TREM>99.9%, TREM: 99% |
| Silicon | Si | 99.999%, 99.9999%,poly or mono crystal, doped or undoped |
| Selenium | Se | 99.99%, 99.999% |
| Scandium | Sc | Sc/TREM>99.9%, 99.99% TREM: 99% |
| Silver | Ag | 99.99% |
| Terbium | Tb | Tb/TREM>99.9%, 99.99% TREM: 99% |
| Tellurium | Te | 99.99%,99.999% |
| Tantalum | Ta | 99.95%, 99.99% |
| Titanium | Ti | 99.7%, 99.99%, 99.995%, 99.999% |
| Thulium | Tm | Tm/TREM>99.9%, 99.99% TREM: 99% |
| Tin | Sn | 99.99%, 99.999% |
| Tungsten | W | 99.95% |
| Vanadium | V | 99.9% |
| Ytterbium | Yb | Yb/TREM>99.9%, 99.99% TREM: 99% |
specification︰ High purity
Label︰ Gadolinium Gd metal pieces foils use in evaporation
Related Products