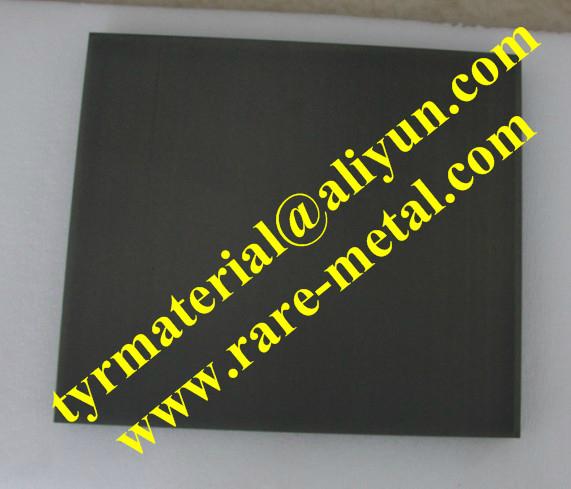 Cerium Ce metal sputtering targets CAS 7440-45-1
Model No.︰
Ce
Brand Name︰
TYR
Country of Origin︰
China
Unit Price︰
US $ 150 / pc
Minimum Order︰
1 pc
Product Description
Cerium (Ce) metal Sputtering target

Purity: Ce/TREM: 99.5%, 99.9%, TREM: 99%min.
Shape: Discs, disks, step disk, delta, plate, sheets or made per drawing
Diameter: 355.6mm (14") max.
Single piece Size: Length:<500mm, Width: <250mm, thickness:="">1mm, if larger size than this, we can do it as Tiles joint by 45 degree or 90 degree
Made sputtering targets method: hot pressing (HP), hot/cold isostatic pressing (HIP, CIP), and vacuum melting, vacuum sintering

Cerium Ce is traditionally considered to be one of the rare earth elements. It has no biological role, and is not very toxic.

Melting point: 1068 K ​(795 °C, ​1463 °F) Boiling point: 3716 K ​(3443 °C, ​6229 °F)
Density near r.t.: 6.770 g/cm3 Atomic weight: 140.116
​Use:
Cerium metal is used in ferrocerium lighters for its pyrophoric properties

We also supply below material:
| | | |
| --- | --- | --- |
| Material Name | Formula | Purity |
| Aluminum | Al | 99.99%, 99.999% |
| Antimony | Sb | 99.99%, 99.999% |
| Boron | B | 99.9%,99.99%, 99.999% |
| Barium | Ba | 99.3%, 99.9%, 99.95% |
| Bismuth | Bi | 99.99%, 99.999% |
| Beryllium | Be | 99.99% |
| Graphite | C | 99.99% |
| Cobalt | Co | 99.9%, 99.95%, 99.99% |
| Chromium | Cr | 99.5%, 99.9%, 99.95% |
| Copper | Cu | 99.99%, 99.999% |
| Cadmium | Cd | 99.99% |
| Cerium | Ce | Ce/TREM>99.5%, 99.9%, TREM: 99% |
| Dysprosium | Dy | Dy/TREM>99.5%, 99.9%, TREM: 99% |
| Eur | Eu | Eu/TREM>99.95, 99.99%, TREM: 99% |
| Erbium | Er | Er/TREM>99.9%, TREM: 99% |
| Germanium | Ge | 99.999%, polycrystal or monocrystal |
| Gallium | Ga | 99.99% |
| Gadolinium | Gd | Gd/TREM>99.9%, 99.99% TREM: 99% |
| Holmium | Ho | Ho/TREM>99.9%, 99.99% TREM: 99% |
| Hafnium | Hf | 99.5%, 99.9% |
| Iron | Fe | 99.9%, 99.99% |
| Iridium | Ir | 99.95% |
| Indium | In | 99.9%, 99.99%,99.999% |
| Lanthanum | La | La/TREM>99.5%, 99.9%, TREM: 99% |
| Lutetium | Lu | Lu/TREM>99.99% TREM: 99% |
| Lithium | Li | 99.5% |
| Molybdenum | Mo | 99.95% |
| Magnesium | Mg | 99.95% |
| Nickel | Ni | 99.9%, 99.98%, 99.995%, 99.999% |
| Niobium | Nb | 99.95% |
| Neodymium | Nd | Nd/TREM>99.5%, 99.9%, TREM: 99% |
| Lead | Pb | 99.99% |
| Praseodymium | Pr | Pr/TREM>99.5%, TREM: 99% |
| Ruthenium | Ru | 99.95% |
| Rhenium | Re | 99.95%, 99.99% |
| Samarium | Sm | Sm/TREM>99.9%, TREM: 99% |
| Silicon | Si | 99.999%, 99.9999%,poly or mono crystal, doped or undoped |
| Selenium | Se | 99.99%, 99.999% |
| Scandium | Sc | Sc/TREM>99.9%, 99.99% TREM: 99% |
| Silver | Ag | 99.99% |
| Terbium | Tb | Tb/TREM>99.9%, 99.99% TREM: 99% |
| Tellurium | Te | 99.99%,99.999% |
| Tantalum | Ta | 99.95%, 99.99% |
| Titanium | Ti | 99.7%, 99.99%, 99.995%, 99.999% |
| Thulium | Tm | Tm/TREM>99.9%, 99.99% TREM: 99% |
| Tin | Sn | 99.99%, 99.999% |
| Tungsten | W | 99.95% |
| Vanadium | V | 99.9% |
| Ytterbium | Yb | Yb/TREM>99.9%, 99.99% TREM: 99% |
Label︰ Cerium Ce metal sputtering targets
Related Products