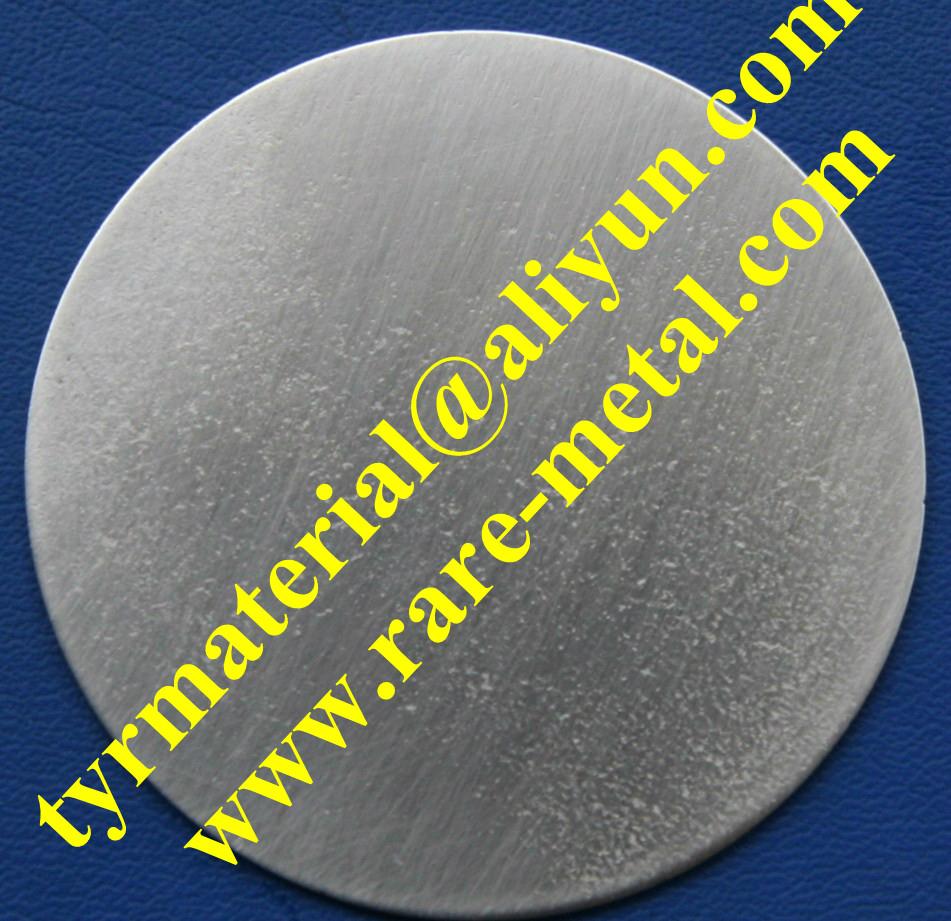 Iridium (Ir) metal sputtering targets, Purity: 99.95%, CAS: 7439-88-5
Model No.︰
Ir
Brand Name︰
TYR
Country of Origin︰
China
Unit Price︰
US $ 30 / g
Minimum Order︰
50 g
Product Description
Iridium​ (Ir) metal Sputtering targets:
purity: 99.95%
Size: max. 355.6mm (14 inch) Max,
Length: 500mm max x Width 200mm x thickness 20mm max.,
Shape: Discs, disks, rod, step disk, delta, plate, sheets or made per drawing

Ir is Iridium is a hard, brittle, lustrous, dense, transition metal of the platinum family. It is silvery-white and it is notable for being the most corrosion resistant element known. It is unaffected by air, water
and acids.
Density: 22.64g/cm3, Melting point: 2466 °C, Boiling point: 4428 °C, Pure iridium is very brittle and is nearly impossible to machine. It is primarily
used as a hardening agent for platinum. Platinum-iridium alloys are used to make crucibles and other high temperature equipment. Iridium is also alloyed
with osmium to make the tips of fountain pens and compass bearings.
Iridium is the most corrosive resistant metal known. For this reason, the standard meter bar was created
from an alloy of 90% platinum and 10% iridium.
Applications: use to make alloys, crucibles, wire
Iridium crucibles are commonly used for growing large high-quality single crystals, demand for which has increased sharply.
The high melting point, hardness and corrosion resistance of iridium and its alloys determine most of its
applications.
​we also can supply below high purity metal sputtering targets material:
| | | |
| --- | --- | --- |
| Material Name | Formula | Purity |
| Aluminum | Al | 99.99%, 99.999% |
| Antimony | Sb | 99.99%, 99.999% |
| Boron | B | 99.9%,99.99%, 99.999% |
| Barium | Ba | 99.3%, 99.9%, 99.95% |
| Bismuth | Bi | 99.99%, 99.999% |
| Beryllium | Be | 99.99% |
| Graphite | C | 99.99% |
| Cobalt | Co | 99.9%, 99.95%, 99.99% |
| Chromium | Cr | 99.5%, 99.9%, 99.95% |
| Copper | Cu | 99.99%, 99.999% |
| Cadmium | Cd | 99.99% |
| Cerium | Ce | Ce/TREM>99.5%, 99.9%, TREM: 99% |
| Dysprosium | Dy | Dy/TREM>99.5%, 99.9%, TREM: 99% |
| Eur | Eu | Eu/TREM>99.95, 99.99%, TREM: 99% |
| Erbium | Er | Er/TREM>99.9%, TREM: 99% |
| Germanium | Ge | 99.999%, polycrystal or monocrystal |
| Gallium | Ga | 99.99% |
| Gadolinium | Gd | Gd/TREM>99.9%, 99.99% TREM: 99% |
| Holmium | Ho | Ho/TREM>99.9%, 99.99% TREM: 99% |
| Hafnium | Hf | 99.5%, 99.9% |
| Iron | Fe | 99.9%, 99.99% |
| Iridium | Ir | 99.95% |
| Indium | In | 99.9%, 99.99%,99.999% |
| Lanthanum | La | La/TREM>99.5%, 99.9%, TREM: 99% |
| Lutetium | Lu | Lu/TREM>99.99% TREM: 99% |
| Lithium | Li | 99.5% |
| Molybdenum | Mo | 99.95% |
| Magnesium | Mg | 99.95% |
| Nickel | Ni | 99.9%, 99.98%, 99.995%, 99.999% |
| Niobium | Nb | 99.95% |
| Neodymium | Nd | Nd/TREM>99.5%, 99.9%, TREM: 99% |
| Lead | Pb | 99.99% |
| Praseodymium | Pr | Pr/TREM>99.5%, TREM: 99% |
| Ruthenium | Ru | 99.95% |
| Rhenium | Re | 99.95%, 99.99% |
| Samarium | Sm | Sm/TREM>99.9%, TREM: 99% |
| Silicon | Si | 99.999%, 99.9999%,poly or mono crystal, doped or undoped |
| Selenium | Se | 99.99%, 99.999% |
| Scandium | Sc | Sc/TREM>99.9%, 99.99% TREM: 99% |
| Silver | Ag | 99.99% |
| Terbium | Tb | Tb/TREM>99.9%, 99.99% TREM: 99% |
| Tellurium | Te | 99.99%,99.999% |
| Tantalum | Ta | 99.95%, 99.99% |
| Titanium | Ti | 99.7%, 99.99%, 99.995%, 99.999% |
| Thulium | Tm | Tm/TREM>99.9%, 99.99% TREM: 99% |
| Tin | Sn | 99.99%, 99.999% |
| Tungsten | W | 99.95% |
| Vanadium | V | 99.9% |
| Ytterbium | Yb | Yb/TREM>99.9%, 99.99% TREM: 99% |
specification︰ purity: 99.95%
Size: max. 355.6mm (14 inch) Max,
Length: 500mm max x Width 200mm x thickness 20mm max.,
Shape: Discs, disks, rod, step disk, delta, plate, sheets or made per drawing
Label︰ Iridium (Ir) metal sputtering targets
Related Products