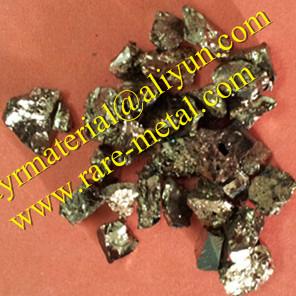 Tin Telluride SnTe granules use in thermoelectric generator CAS 120404-02-7
Model No.︰
SnTe
Brand Name︰
TYR
Country of Origin︰
China
Unit Price︰
US $ 200 / pc
Minimum Order︰
1 pc
Product Description
Tin Telluride, SnTe sputtering targets
Purity: 99.99%
Shape: pieces, granules, rods, tablets, powder
Spec.:
Pieces, Granules: 1-2.5mm, 3-6mm, 3-8mm, 1-3mm, 3-12mm e.t.c
​Powder: -200 mesh, -325 mesh e.t.c
Made sputtering targets method: hot pressing (HP), hot/cold isostatic pressing (HIP, CIP), and vacuum melting, vacuum sintering
Molar mass: 246.31g/mol Density: 6.445g/cm3 Melting point: 790°C
SnTe is a IV-VI narrow band gap semiconductor and has direct band gap of 0.18 eV. It is often alloyed with lead to make lead tin telluride, which is used as an infrared detector material.
Tin telluride normally forms p-type semiconductor (Extrinsic semiconductor) due to tin vacancies and is a low temperature superconductor.
Tin telluride is a thermoelectric material. Theoretical studies imply that the n-type performance may be particularly good.
Applications:
Generally Pb is alloyed with SnTe in order to access interesting optical and electronic properties, In addition, as a result of Quantum confinement, the band gap of the SnTe increases beyond the bulk band gap, covering the mid-IR wavelength range. The alloyed material has been used in mid- IR photodetectors and thermoelectric generator.
We also supply below Telluride sputtering target material:
Arsenic Telluride , As2Te3 target
Antimony Telluride, SbTe, Sb2Te3 target
Bismuth Telluride , Bi2Te3, BiTe target
Bismuth Antimony Telluride , Bi-Sb-Te target
Cadmium Telluride, CdTe target
Copper Telluride , CuTe, Cu2Te target
Gallium Telluride , GaTe target
Geranium Telluride , GeTe target
Geranium Antimony Telluride , Ge-Sb-Te target
Lead Telluride , PbTe target
Tin Telluride, SnTe target
Molybdenum Telluride, MoTe2 target
Niobium Telluride, NbTe2 target
Silver Telluride, Ag2Te target
Tantalum Telluride, TaTe2 target
Tungsten Telluride , WTe2, sputtering target
Zinc Telluride , ZnTe target
Label︰ Tin Telluride SnTe granules use in thermoelectric generator
Related Products