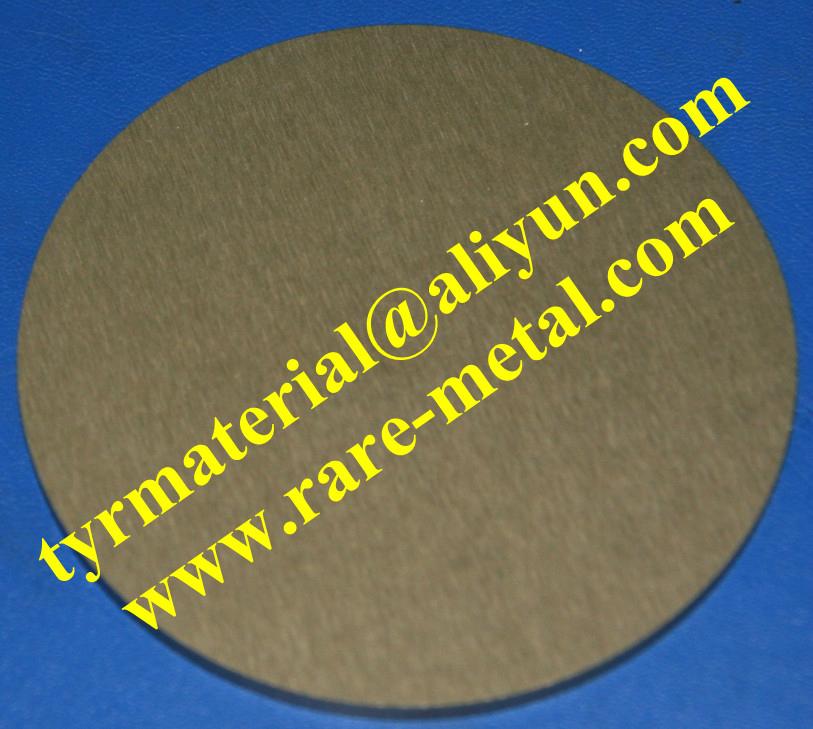 Titanium monoxide TiO sputtering targets use in RF sputtering CAS 12137-20-1
Model No.︰
TiO targets
Brand Name︰
TYR
Country of Origin︰
China
Unit Price︰
US $ 200 / pc
Minimum Order︰
1 pc
Product Description
Titanium monoxide, TiO ceramic sputtering targets
Purity: 99.9%
Shape: Discs, disks, step disk, delta, plate, sheets or made per drawing
Diameter: 355.6mm (14") max.
Single piece Size: Length: <500mm, Width: <250mm, Thickness: >1mm, if larger size than this, we can do it as Tiles joint by 45 degree or 90 degree
Made sputtering targets method: hot pressing (HP), hot/cold isostatic pressing (HIP, CIP), and vacuum melting, vacuum sintering
Atomic weight: 63.88 Melting point: 1750oC Boiling point: >3000oC, Density: 4.93 g/cm3
Solubility (water) : Insoluble. Appearance: Gold yellow
Applications:
Titanium monoxide is a highly insoluble thermally stable Titanium source suitable for glass, optic and
ceramic applications. Oxide compounds are not conductive to electricity. However, certain perovskite
structured oxides are electronically conductive finding application in the cathode of solid oxide fuel cells
and oxygen generation systems. They are compounds containing at least one oxygen anion and one metallic
cation. They are typically insoluble in aqueous solutions (water) and extremely stable making them useful
in ceramic structures as simple as producing High Purity Titanium Oxide (TiO) Powder-clay
bowls to advanced electronics and in light weight structural components in aerospace and electrochemical
applications such as fuel cells in which they exhibit ionic conductivity. Metal oxide compounds are basic
anhydrides and can therefore react with acids and with strong reducing agents in redox reactions.
Titanium monoxide, TiO is also available in pellets, pieces, powder, sputtering targets, tablets
specification︰ Sputtering target, thin film coating, evaporation materials can be used as ethylene polymerization of catalysts. Also can be used to produce shading sex film, black cosmetics, etc
Label︰ TiO targets
Related Products