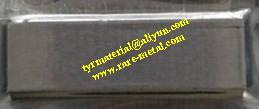 Iron oxide (Fe3O4, Fe2O3) targets use in thin film coating CAS 1332-37-2
Model No.︰
Fe3O4, Fe2O3
Brand Name︰
TYR
Country of Origin︰
China
Unit Price︰
US $ 200 / pc
Minimum Order︰
1 pc
Product Description
Iron oxide Sputtering targets
​Composition: Fe2O3, Fe3O4
Purity 99.9%
Shape: Discs, disks, step disk, delta, plate, sheets or made per drawing
Diameter: 355.6mm (14") max.
Single piece Size: Length: <500mm, Width: <250mm, Thickness: >1mm, if larger size than this, we can do it as Tiles joint by 45 degree or 90 degree
Made sputtering targets method: hot pressing (HP), hot/cold isostatic pressing (HIP, CIP), and vacuum melting, vacuum sintering
Use in Sputtering film coating, evaporation materials, used as a watercolor, paint, ink pigment. Coating industry for the manufacturing antirust coatings, primer and magnetic coating.
Oxide Ceramic sputtering target :
Aluminum Oxide , Al2O3 Antimony Oxide , Sb2O3
Antimony:Tin Dioxide , Sb:SnO, ATO Barium Titanate , BaTiO3
Bismuth Oxide , Bi2O3 Cerium oxide , CeO2
Cerium fluoride , CeF3 Chromium Oxide ,CrO, Cr2O3
Copper Oxide , CuO Dysprosium Oxide , Dy2O3
Erbium Oxide , Er2O3 Eur Oxide , Eu2O3
Gadolinium Oxide , Gd2O3 Hafnium Oxide, HfO2
Holmium Oxide , Ho2O3 Indium Tin Oxide, In2O3-SnO2, ITO
Indium Zinc Oxide, In2O3-ZnO, IZO Indium Oxide , In2O3
Indium Gallium Zinc Oxide, IGZO , In2O3+Ga2O3+ZnO
Iron Oxide , Fe2O3, Fe3O4 Lanthanum Aluminate , LaAl2O3,
LSMO , La0.67Sr0.33MnO3
Lead Zirconate , PbZrO3 Lead Oxide, PbO
Lead Titanate , PbTiO3 Lead Zirconate , PbZrO3
Lead Zirconate-Titanate, PZT , PbZrO3 + PbTiO3
Lutetium Oxide , Lu2O3
Magnesium Oxide , MgO Molybdenum Oxide , MoO
Molybdenum Oxide , MoO3, Neodymium Oxide , Nd2O3,
Nickel Oxide, NiO Niobium Pentoxide , Nb2O5, Nb2Ox
Neodymium Oxide , Nd2O3, Nickel Oxide, NiO
Praseodymium Oxide , Pr6O11, Samarium Oxide , Sm2O3
Scandium Oxide , Sc2O3 Silicon Monoxide , SiO
Silicon Dioxide , SiO2 Strontium Titanate , SrTiO3,
Tantalum Pentoxide , Ta2O5, Terbium Oxide , Tb4O7
Thulium Oxide , Tm2O3 Titanium Oxide , Ti2O3, Ti3O5
Titanium Monoxide , TiO Titanium Dioxide , TiO2
Tungsten Oxide , WO3, WO2.9, WO3 doped Li2O
Vanadium Pentoxide , V2O5, VO2 Yttrium Oxide , Y2O3
Ytterbium Oxide , Yb2O3
Zinc Oxide , ZnO Zinc Aluminum Oxide, AZO , Al2O3-ZnO, ZnO-Al
Ga2O3 doped ZnO , GZO Zirconium oxide , ZrO2
ZrO2 - Y2O3 stabilized , YSZ, ZrO2 + SiO2
specification︰ Composition: Fe2O3, Fe3O4
Purity 99.9%
Shape: Discs, disks, step disk, delta, plate, sheets or made per drawing
Diameter: 355.6mm (14") max.
Single piece Size: Length: <500mm, Width: <250mm, Thickness: >1mm, if larger size than this, we can do it as Tiles joint by 45 degree or 90 degree
Label︰ Iron oxide (Fe3O4) targets use in thin film coating
Related Products