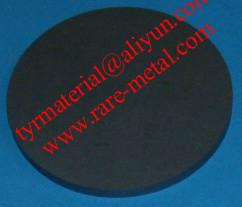 Hafnium nitride HfN sputtering targets use in thin film coating CAS 25817-87-2
Model No.︰
HfN
Brand Name︰
TYR
Country of Origin︰
China
Unit Price︰
US $ 200 / pc
Minimum Order︰
1 pc
Product Description

Hafnium nitride, HfN ceramic sputtering target
Purity: 99.5%
Size: Diameter: 355.6mm (14") max.
Single piece Size: Length: <350mm, Width: <250mm, Thickness: >1mm,
if larger size than this, we can do it as Tiles joint by 45 degree or 90 degree

Shape: discs, plate, rod, tube, sheet, Delta, Rotatable and per drawing
density: 13.8g/cm3
melting point of 3310 °C.

Hafnium nitride (HfN) is the most refractory of all known metal nitrides, with aThis has led to proposals that hafnium or its carbides might be useful as construction materials that are subjected to very high temperatures. The mixed carbide tantalum hafnium carbide (Ta4HfC5) possesses the highest melting point of any currently known compound, 4215 °C.

We also supplying other nitride targets material as following:
Aluminum Nitride , AlN target
Boron Nitride, BN target
Hafnium Nitride, HfN target
Niobium Niride , NbN target
Silicom Nitride , Si3N4 target
Tantalum Nitride , TaN target
Titanium Carbon nitride , TiCN target
Titanium Nitride, TiN target
​Tungsten Nitride, WN targets
Vanadium Nitride , VN target
Zirconium Nitride , ZrN target
specification︰ Hafnium nitride, HfN ceramic sputtering target, evaporation or thin film coating material, HfN powder
Label︰ Hafnium nitride HfN sputtering targets
Related Products