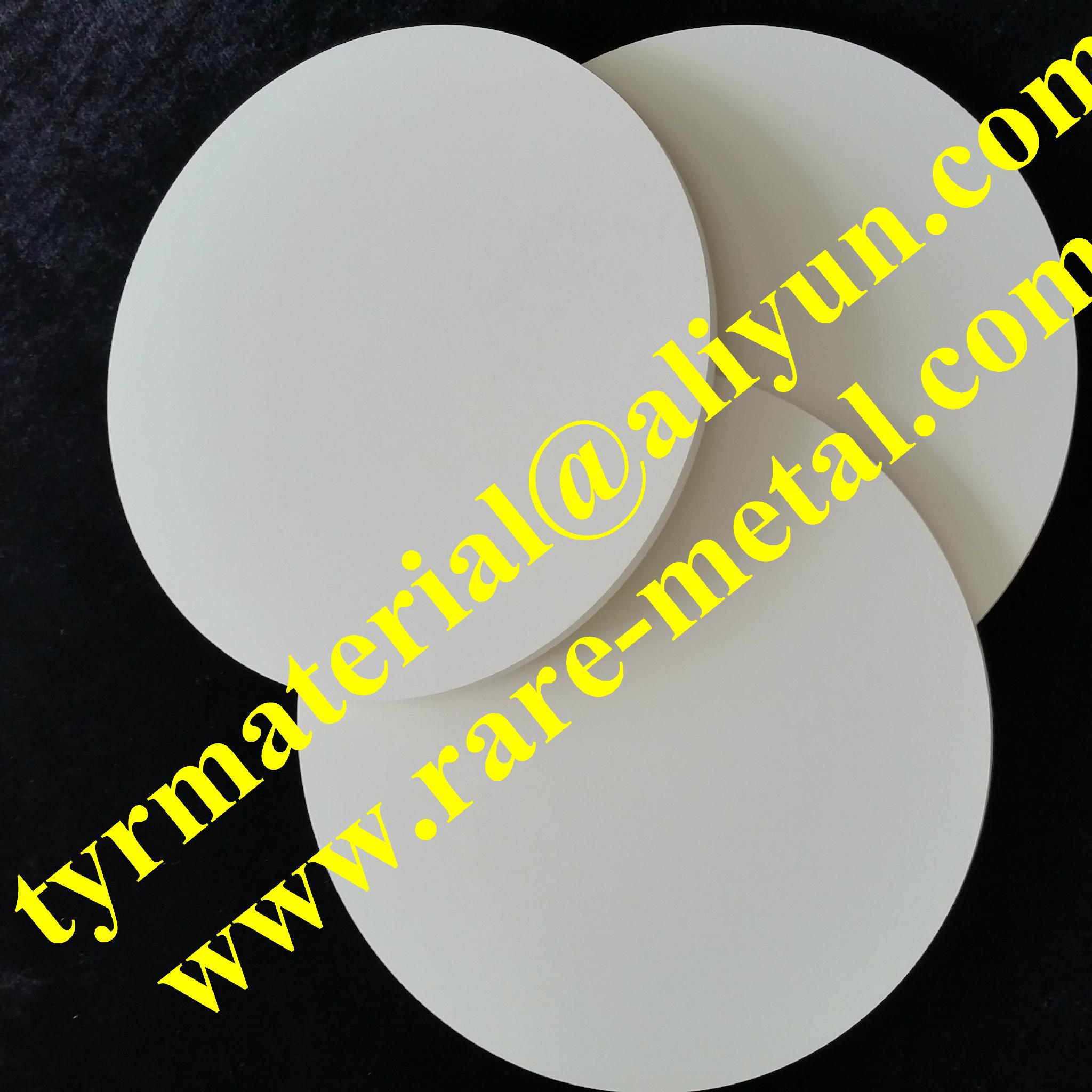 Cerium(IV) oxide CeO2 sputtering targets CAS 12014-52-1
Model No.︰
CeO2
Brand Name︰
TYR
Country of Origin︰
China
Unit Price︰
US $ 200 / pc
Minimum Order︰
1 pc
Product Description
Cerium Oxide (CeO2) Sputtering targets
Purity: CeO2/TREO: 99.99%, TREO>99%
Shape: Discs, disks, step disk, delta, plate, sheets or made per drawing
Diameter: 355.6mm (14") max.
Single piece Size: Length: <500mm, Width: <250mm, Thickness: >1mm, if larger size than this, we can do it as Tiles joint by 45 degree or 90 degree
Made sputtering targets method: hot pressing (HP), hot/cold isostatic pressing (HIP, CIP), and vacuum melting, vacuum sintering
It is a pale yellow-white powder with the chemical formula CeO2. It is an important commercial product and an intermediate in the purification of the element from the ores. The distinctive property of this material is its reversible conversion to a nonstoichiometric oxide.
Molar mass: 172.115 g/mol
Appearance: white or pale yellow solid,
Density: 7.215 g/cm3
Melting point: 2,400 °C (4,350 °F; 2,670 K)
Boiling point: 3,500 °C (6,330 °F; 3,770 K)
We also supply below oxie ceramic sputtering targets material:
Aluminum Oxide Al2O3 target Aluminum Zinc Oxide Al2O3-ZnO Al-ZnO target
Antimony Oxide Sb2O3 target Antimony Tin Oxide Sb2O3-SnO ATO target
Chromium Oxide Cr2O3 target Copper Oxide CuO, Cu2O target
Cerium Oxide CeO2 Target Cobalt Oxide target CoO, Co2O3, Co3O4 target
Dysprosium Oxide Dy2O3 target Eur Oxide Eu2O3 target
Erbium Oxide Er2O3 target Germanium Oxide GeO2 target
Gadolinium Oxide Gd2O3 target Gallium Oxide Ga2O3 target
Hafnium Oxide HfO2 target Hafnium Yttrium Oxide HfO2-Y2O3 target
Holmium Oxide Ho2O3 target Iron Oxide Fe2O3, Fe3O4 target
Indium Oxide In2O3 target Indium Zinc Oxide, In2O3-ZnO target
Indium Zinc Gallium Oxide In2O3-ZnO-Ga2O3, IZGO target
Indium Gallium Oxide In2O3-Ga2O3, IGO target
Indium Tin Oxide In2O3-SnO2, ITO target Lanthanum Oxide La2O3 target
Lutetium Oxide Lu2O3 target Magnesium Oxide MgO target
Molybdenum Oxide MoO3 target Manganese Oxide MnO2,MnO target
Nickel Oxide NiO target Niobium Oxide Nb2O5, Nb2Ox target
Neodymium Oxide Nd2O3 target Praseodymium Oxide Pr6O11 target
Samarium Oxide Sm2O3 target Scandium Oxide Sc2O3 target
Silicon Dioxide SiO2 target Silicon Monoxide SiO target
Strontium Titanate SrTiO3 target Strontium Barium Titanate SrBaTiO3 target
Strontium Ruthenate SrRuO3 target Barium Titanate BaTiO3 target
Terbium Oxide Tb4O7 Target Tantalum Oxide Ta2O5, Ta2Ox target
Titanium Oxide TiO, TiO2, Ti2O3, Ti3O5 target
Thulium Oxide Tm2O3 target Tin Oxide SnO, SnO2 target
Tungsten Oxide WO3, WO2.9 target Tungsten Lithium Oxide WO3-Li2O target
Ytterbium Oxide Yb2O3 target Yttrium Oxide Y2O3 target
Zircon Oxide ZrO2 target Zinc Oxide ZnO target
Zirconium Oxide Yttria Stabilized ZrO2-Y2O3, YSZ target
Calcium Oxide CaO target Cadmium Oxide CdO target
Doped Boron Oxide taret ZnO-B2O3, ZrO2-B2O3 target
Bismuth Oxide Bi2O3 target Bismuth Ferrite BiFeO3 target
Vanadium Oxide V2O5, VO2 target Ruthenium Oxide RuO2 target
Lead Oxide PbO target LaTiO3, SrTiO3-La, EuTiO3 target
Yttrium Barium Copper Oxide YBCO taret Gadolinium Barium Copper Oxide, GdBaCuOx target
LaMnO3 target, LaSrMnOx target Barium Oxide BaO target
Lead zirconate titanate PbZrTiO3, PZT target Y3Fe5O12, YIG target
We have only listed the more popular material. Please feel free contact us with any special requirements at any times, we will try to get back for you ASAP.
specification︰ Sputtering targets, film coating or evaporation materials, powder
Label︰ Cerium oxide, CeO2 sputtering targets
Related Products