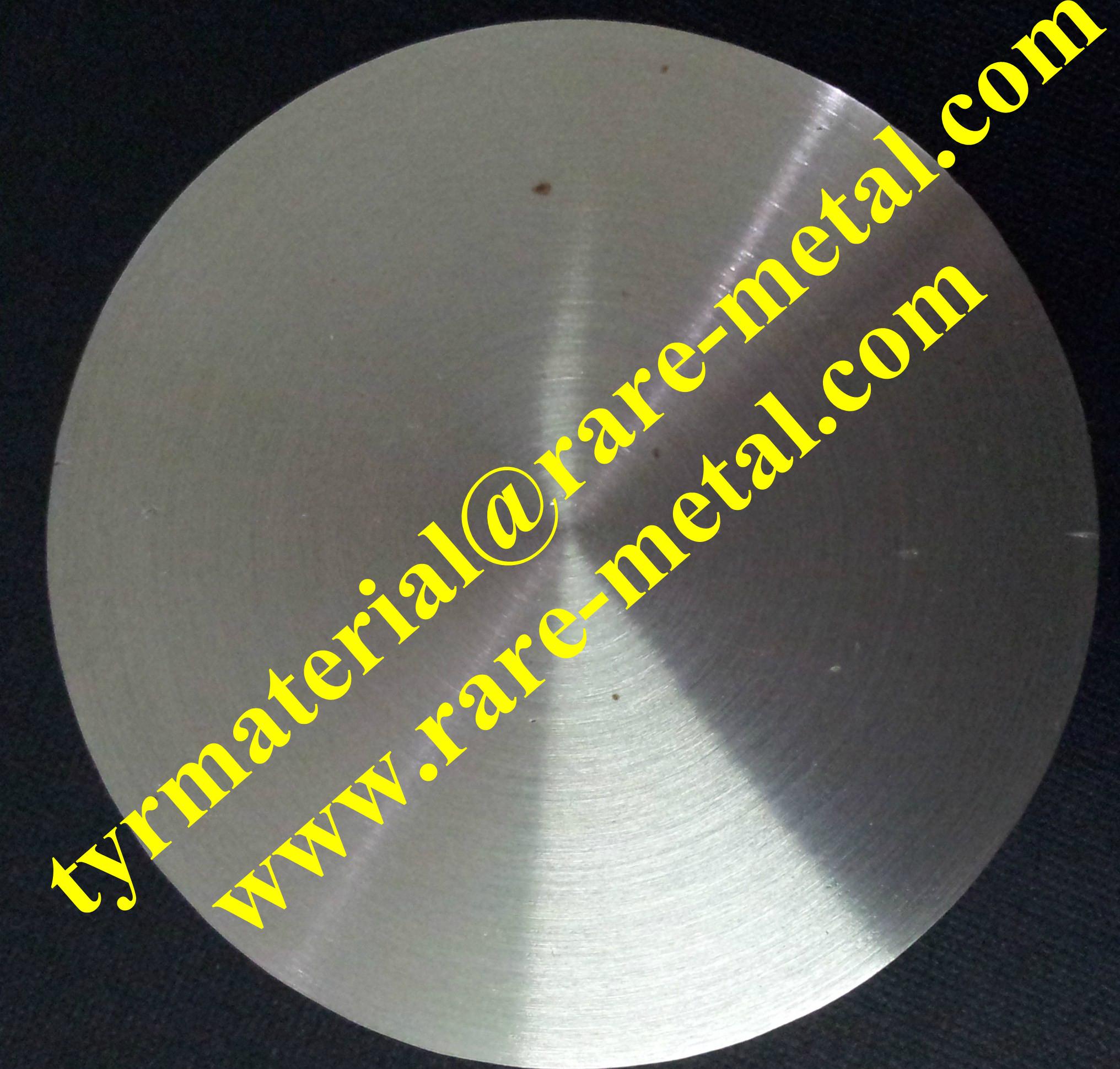 Platinum Pt sputtering target CAS 7440-06-4
Model No.︰
Pt
Brand Name︰
TYR
Country of Origin︰
China
Unit Price︰
US $ 200 / pc
Minimum Order︰
1 pc
Product Description
Platinum​ (Pt) sputtering targets
Purity: 99.95%, 99.99%
Diameter: 355.6mm (14") max.
Single piece Size: Length: <1500mm, Width: <250mm, Thickness: >1mm, if larger size than this, we can do it as tiles joint by 45 degree or 90 degree.
Shape: discs, plate, rod, tube, sheet, Delta, Rotatable and per drawing
atmotic: 195.084
Melting point: 2041.4 K ​(1768.3 °C, ​3214.9 °F)
Boiling point: 4098 K ​(3825 °C, ​6917 °F)
Density: 21.45 g/cm3 when liquid, at m.p.19.77 g/cm3

Platinum is used in catalytic converters, laboratory equipment, electrical contacts and electrodes, platinum resistance thermometers, dentistry equipment, and jewelry. Being a heavy metal, it leads to health issues upon exposure to its salts; but due to its corrosion resistance, metallic platinum has not been linked to adverse health effects. Compounds containing platinum, such as cisplatin, oxaliplatin and carboplatin, are applied in chemotherapy against certain types of cancer.
we also can supply below high purity metal sputtering targets material:
| | | |
| --- | --- | --- |
| Material Name | Formula | Purity |
| Aluminum | Al | 99.99%, 99.999% |
| Antimony | Sb | 99.99%, 99.999% |
| Boron | B | 99.9%,99.99%, 99.999% |
| Barium | Ba | 99.3%, 99.9%, 99.95% |
| Bismuth | Bi | 99.99%, 99.999% |
| Beryllium | Be | 99.99% |
| Graphite | C | 99.99% |
| Cobalt | Co | 99.9%, 99.95%, 99.99% |
| Chromium | Cr | 99.5%, 99.9%, 99.95% |
| Copper | Cu | 99.99%, 99.999% |
| Cadmium | Cd | 99.99% |
| Cerium | Ce | Ce/TREM>99.5%, 99.9%, TREM: 99% |
| Dysprosium | Dy | Dy/TREM>99.5%, 99.9%, TREM: 99% |
| Eur | Eu | Eu/TREM>99.95, 99.99%, TREM: 99% |
| Erbium | Er | Er/TREM>99.9%, TREM: 99% |
| Germanium | Ge | 99.999%, polycrystal or monocrystal |
| Gallium | Ga | 99.99% |
| Gadolinium | Gd | Gd/TREM>99.9%, 99.99% TREM: 99% |
| Holmium | Ho | Ho/TREM>99.9%, 99.99% TREM: 99% |
| Hafnium | Hf | 99.5%, 99.9% |
| Iron | Fe | 99.9%, 99.99% |
| Iridium | Ir | 99.95% |
| Indium | In | 99.9%, 99.99%,99.999% |
| Lanthanum | La | La/TREM>99.5%, 99.9%, TREM: 99% |
| Lutetium | Lu | Lu/TREM>99.99% TREM: 99% |
| Lithium | Li | 99.5% |
| Molybdenum | Mo | 99.95% |
| Magnesium | Mg | 99.95% |
| Nickel | Ni | 99.9%, 99.98%, 99.995%, 99.999% |
| Niobium | Nb | 99.95% |
| Neodymium | Nd | Nd/TREM>99.5%, 99.9%, TREM: 99% |
| Lead | Pb | 99.99% |
| Praseodymium | Pr | Pr/TREM>99.5%, TREM: 99% |
| Ruthenium | Ru | 99.95% |
| Rhenium | Re | 99.95%, 99.99% |
| Samarium | Sm | Sm/TREM>99.9%, TREM: 99% |
| Silicon | Si | 99.999%, 99.9999%,poly or mono crystal, doped or undoped |
| Selenium | Se | 99.99%, 99.999% |
| Scandium | Sc | Sc/TREM>99.9%, 99.99% TREM: 99% |
| Silver | Ag | 99.99% |
| Terbium | Tb | Tb/TREM>99.9%, 99.99% TREM: 99% |
| Tellurium | Te | 99.99%,99.999% |
| Tantalum | Ta | 99.95%, 99.99% |
| Titanium | Ti | 99.7%, 99.99%, 99.995%, 99.999% |
| Thulium | Tm | Tm/TREM>99.9%, 99.99% TREM: 99% |
| Tin | Sn | 99.99%, 99.999% |
| Tungsten | W | 99.95% |
| Vanadium | V | 99.9% |
| Ytterbium | Yb | Yb/TREM>99.9%, 99.99% TREM: 99% |
specification︰ Purity: 99.95%, 99.99%
Diameter: 355.6mm (14") max.
Single piece Size: Length: <1500mm, Width: <250mm, Thickness: >1mm, if larger size than this, we can do it as tiles joint by 45 degree or 90 degree.
Shape: discs, plate, rod, tube, sheet, Delta, Rotatable and per drawing
Label︰ Platinum Pt sputtering target
Related Products