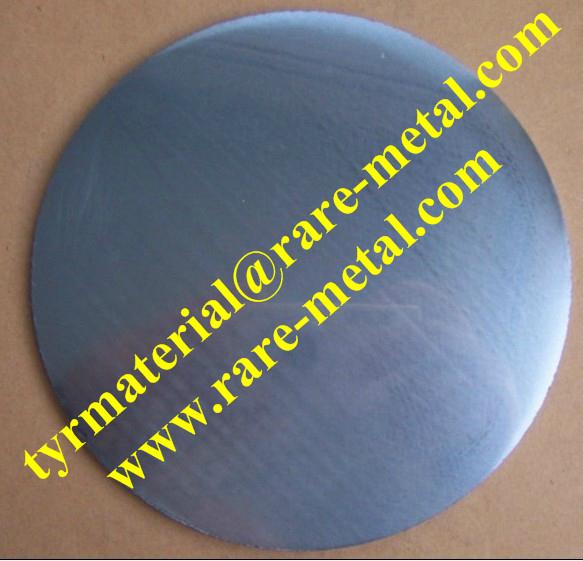 Osmium Os sputtering targets use in lab rearch CAS 7440-04-2
Model No.︰
Os
Brand Name︰
TYR
Country of Origin︰
China
Unit Price︰
US $ 1000 / pc
Minimum Order︰
1 pc
Product Description
Osmium, Os sputtering targets
Purity: 99.9%, 99.95%
Diameter: 355.6mm (14") max.
Single piece Size: Length: <1500mm, Width: <250mm, Thickness: >1mm, if larger size than this, we can do it as tiles joint by 45 degree or 90 degree.
Shape: discs, plate, rod, tube, sheet, Delta, Rotatable and per drawing
Osmium, Os is a hard, brittle, bluish-white transition metal in the platinum family and is the densest naturally occurring element, with a density
of 22.59 g/cm3, melting point: 3033 oC, Boiling point: 5012 oC, Its alloys with platinum, iridium, and
other platinum group metals are employed in fountain pen tips, electrical contacts, and other applications
where extreme durability and hardness are needed.
Osmium is a hard but brittle metal that remains lustrous even at high temperatures. It has a very low
compressibility. The hardness of osmium is moderately high at 4 GPa. Because of its hardness, brittleness,
low vapor pressure (the lowest of the platinum group metals), and very high melting point
(the fourth highest of all elements), solid osmium is difficult to machine, form, or work.
Applications:
used in the tips of fountain pens, instrument pivots, and electrical contacts, Osmium-coated mirrors, Osmium has high reflectivity in the ultraviolet range of the electromagnetic spectrum, This high reflectivity is desirable in space-based UV spectrometers
we also can supply below high purity metal sputtering targets material:
| | | |
| --- | --- | --- |
| Material Name | Formula | Purity |
| Aluminum | Al | 99.99%, 99.999% |
| Antimony | Sb | 99.99%, 99.999% |
| Boron | B | 99.9%,99.99%, 99.999% |
| Barium | Ba | 99.3%, 99.9%, 99.95% |
| Bismuth | Bi | 99.99%, 99.999% |
| Beryllium | Be | 99.99% |
| Graphite | C | 99.99% |
| Cobalt | Co | 99.9%, 99.95%, 99.99% |
| Chromium | Cr | 99.5%, 99.9%, 99.95% |
| Copper | Cu | 99.99%, 99.999% |
| Cadmium | Cd | 99.99% |
| Cerium | Ce | Ce/TREM>99.5%, 99.9%, TREM: 99% |
| Dysprosium | Dy | Dy/TREM>99.5%, 99.9%, TREM: 99% |
| Eur | Eu | Eu/TREM>99.95, 99.99%, TREM: 99% |
| Erbium | Er | Er/TREM>99.9%, TREM: 99% |
| Germanium | Ge | 99.999%, polycrystal or monocrystal |
| Gallium | Ga | 99.99% |
| Gadolinium | Gd | Gd/TREM>99.9%, 99.99% TREM: 99% |
| Holmium | Ho | Ho/TREM>99.9%, 99.99% TREM: 99% |
| Hafnium | Hf | 99.5%, 99.9% |
| Iron | Fe | 99.9%, 99.99% |
| Iridium | Ir | 99.95% |
| Indium | In | 99.9%, 99.99%,99.999% |
| Lanthanum | La | La/TREM>99.5%, 99.9%, TREM: 99% |
| Lutetium | Lu | Lu/TREM>99.99% TREM: 99% |
| Lithium | Li | 99.5% |
| Molybdenum | Mo | 99.95% |
| Magnesium | Mg | 99.95% |
| Nickel | Ni | 99.9%, 99.98%, 99.995%, 99.999% |
| Niobium | Nb | 99.95% |
| Neodymium | Nd | Nd/TREM>99.5%, 99.9%, TREM: 99% |
| Lead | Pb | 99.99% |
| Praseodymium | Pr | Pr/TREM>99.5%, TREM: 99% |
| Ruthenium | Ru | 99.95% |
| Rhenium | Re | 99.95%, 99.99% |
| Samarium | Sm | Sm/TREM>99.9%, TREM: 99% |
| Silicon | Si | 99.999%, 99.9999%,poly or mono crystal, doped or undoped |
| Selenium | Se | 99.99%, 99.999% |
| Scandium | Sc | Sc/TREM>99.9%, 99.99% TREM: 99% |
| Silver | Ag | 99.99% |
| Terbium | Tb | Tb/TREM>99.9%, 99.99% TREM: 99% |
| Tellurium | Te | 99.99%,99.999% |
| Tantalum | Ta | 99.95%, 99.99% |
| Titanium | Ti | 99.7%, 99.99%, 99.995%, 99.999% |
| Thulium | Tm | Tm/TREM>99.9%, 99.99% TREM: 99% |
| Tin | Sn | 99.99%, 99.999% |
| Tungsten | W | 99.95% |
| Vanadium | V | 99.9% |
| Ytterbium | Yb | Yb/TREM>99.9%, 99.99% TREM: 99% |
specification︰ Purity: 99.9%, 99.95%
Diameter: 355.6mm (14") max.
Single piece Size: Length: <1500mm, Width: <250mm, Thickness: >1mm, if larger size than this, we can do it as tiles joint by 45 degree or 90 degree.
Shape: discs, plate, rod, tube, sheet, Delta, Rotatable and per drawing
Label︰ Osmium Os sputtering targets
Related Products